Naples + the Region of Campania
Led by Chef Gregorio Fierro, who will share some of his favorite places and experiences from this incredible region, the ancient and incredibly beautiful Campania region will become yours to experience fully and intimately, though the eyes of the people you encounter.
View the itinerary & photos below and reserve your spot today!
Some Highlights Include:
8 days/7 nights all inclusive, meals, snacks, and ground transportation

Deluxe Hotel Accommodations and English speaking guides throughout

3 Nights in the heart of Naples, steps from the Piazza Plebiscito and the Royal Palace

Guided visits through Spaccanapoli, the Spanish Quarter and more!

4 nights in Salerno, a little seen city with countless riches and the gateway to the Amalfi Coast

The Royal Palace at Caserta, used in countless films and larger than Versailles

Artisinial Cheesemaking and farm dinners

Wine tasting at exclusive vineyards

Tour towns on the Amalfi Coast

Visit internationally recognized restaurants

And so much more!!
Dates for Upcoming Tours:
2020
• May 6-13, 2020 - Food Lovers
• October 1-8, 2020 - Essential Tour
Price
Per Person Double Occupancy: $3250
Per Person Single Occupancy: $3650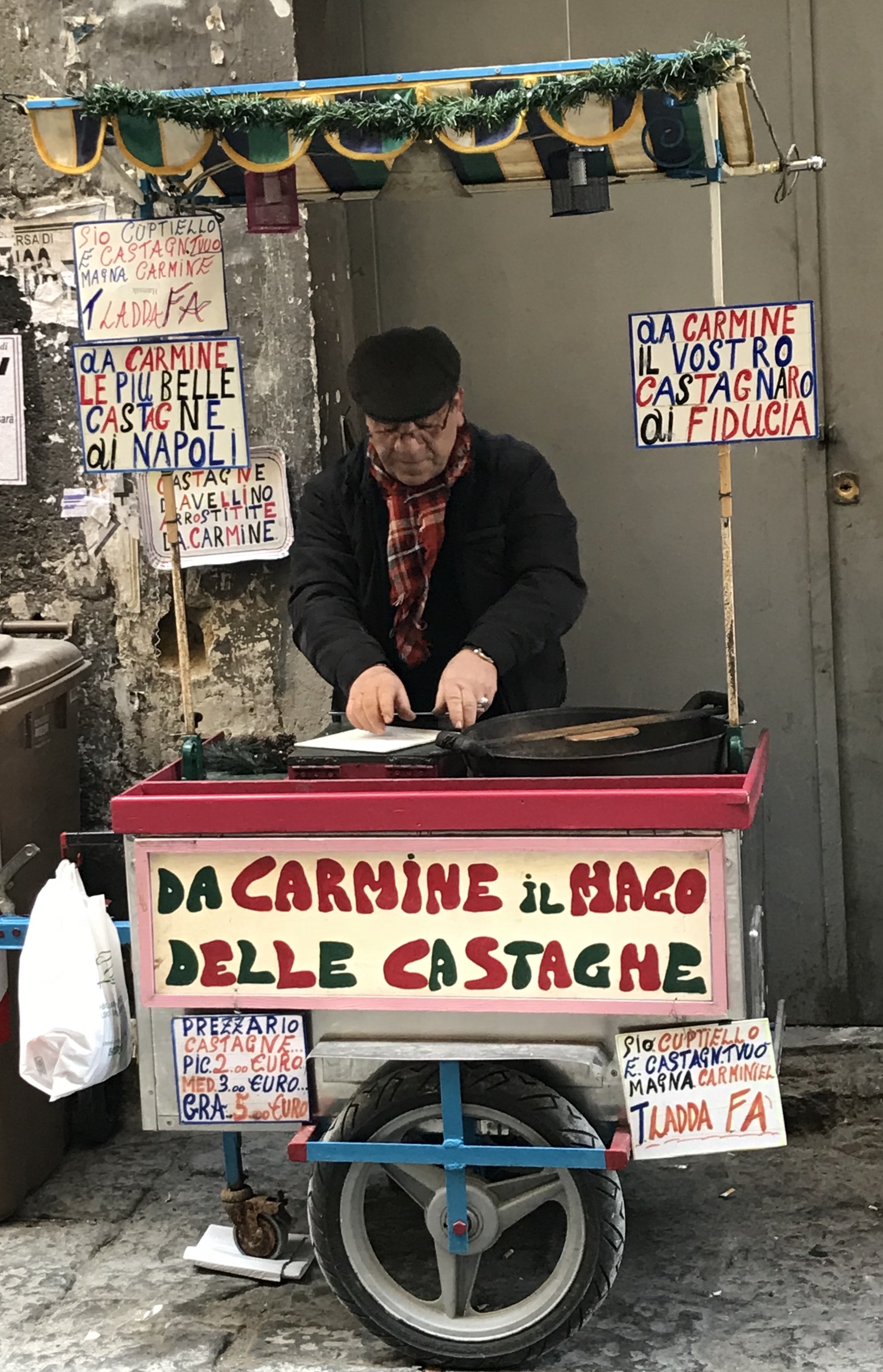 Day 1
Welcome to Naples!
Pick up at Naples train station or Capodichino Airport

Check in to Luxury Hotel, then straight into the city for espresso and a sfogliatella at Gambrinus

You soon experience your first of a few memorable pizzas while we stroll the ancient streets

The evening winds down with an outdoor dinner at a quiet trattoria and a glass of prosecco
Day 2
We waste no time exploring this amazing city, largely on foot.

We dive deeper into the neighborhoods, visiting the fish market at Porta Nolana and the chic and well heeled Vomero, and hike up to its amazing towering castle, the Castel san Elmo, eating amazing street food all the way

The evening ends with a raucous authentic Naples street scene masquerading as dinner, deep in the Spanish Quarter
Day 3
Venturing deeper into the secrets of Naples, we visit the Cappella Sansevero and witness the veiled Christ and the "Disillusion," with its intricately sculpted marble fishing net

San Gregorio Armeno awaits, with its beautiful and sacred nativity scenes intertwined with profane good luck charms. Another sumptuous dinner awaits to conclude our evening
Day 4
On the move, we visit Caserta and the Royal Palace and its 4 miles of intricately manicured gardens, where we will enjoy an outdoor picnic before we are whisked away to begin our trip to Salerno

After checking in, we will visit some of the sights in Salerno, including the incredible Cathedral and the historic Minerva gardens, part of the Salerno Medical School, the oldest medical school in the world!

Wonderful shopping awaits in the narrow and untouristed streets and a tranquil and elegant seaside promenade lead us to sunset aperitive and dinner in a neighborhood haunt far from others
Day 5
Our visit to the Amalfi coast eschews the traditional stops for the less seen towns of Cetara and Minori to visit traditional "colatura" makers and world-class pastry shops. It's a full day and evening as you are effortlessly driven from town to town along the winding and picturesque corniche road that connects the towns
Day 6
We take a trip to the seldom visited Herculaneum, to visit the intricately preserved ruins menacingly perched under Mt. Vesuvius and visit an artisanal cheese factory that lovingly produces Mozzarella di Bufala, the incredible local cheese that never tastes as good as it does moments after its made
Day 7
We visit the incredible Greek ruins at Paestum, the remains of Magna Grecia and visit local seaside towns, A seaside lunch in a sleepy fishing village far from crowds will be followed by a dinner rich with fresh seafood and warm conversation
Day 8
We enjoy a final meal together in Salerno as we check out and make ground arrangements for our guests. Tears and phone numbers are exchanged as the guests, now friends, separate for now, certain that they will remain friends
Reserve your spot to visit Naples right away!